SB 10.80.20-22
From Vanisource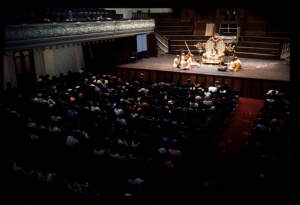 Please note: The synonyms, translation and purport of this verse were composed by disciples of Śrīla Prabhupāda
TEXTS 20-22
athopaveśya paryaṅke
svayam sakhyuḥ samarhaṇam
upahṛtyāvanijyāsya
pādau pādāvanejanīḥ
agrahīc chirasā rājan
bhagavāḻ loka-pāvanaḥ
vyalimpad divya-gandhena
candanāguru-kuṅkamaiḥ
dhūpaiḥ surabhibhir mitraṁ
pradīpāvalibhir mudā
arcitvāvedya tāmbūlaṁ
gāṁ ca svāgatam abravīt
SYNONYMS
atha—then; upaveśya—having him sit; paryaṅke—on the bed; svayam—Himself; sakhyuḥ—for His friend; samarhaṇam—items of worship; upahṛtya—bringing forward; avanijya—washing; asya—his; pādau—feet; pāda-avanejanīḥ—the water which had washed his feet; śirasā—on His head; rājan—O King (Parīkṣit); loka—of all worlds; pāvanaḥ—the purifier; vyalimpat—He anointed him; divya—divine; gandhena—whose fragrance; candana—with sandalwood paste; aguru—aloe-wood paste; dhūpaiḥ—with incense; surabhibhiḥ—aromatic; mitram—His friend; pradīpa—of lamps; avalibhiḥ—with rows; mudā—gladly; arcitvā—worshiping; āvedya—offering as refreshment; tāmbūlam—betel nut; gām—a cow; ca—and; su-āgatam—welcome; abravīt—He spoke.
Translation and purport composed by disciples of Śrīla Prabhupāda
---
TRANSLATION
Lord Kṛṣṇa seated His friend Sudāmā upon the bed. Then the Lord, who purifies the whole world, personally offered him various tokens of respect and washed his feet, O King, after which He sprinkled the water on His own head. He anointed him with divinely fragrant sandalwood, aguru and kuṅkuma pastes and happily worshiped him with aromatic incense and arrays of lamps. After finally offering him betel nut and the gift of a cow, He welcomed him with pleasing words.