SB 11.4.17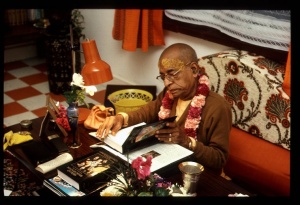 Please note: The synonyms, translation and purport of this verse were composed by disciples of Śrīla Prabhupāda
TEXT 17
haṁsa-svarūpy avadad acyuta ātma-yogaṁ
dattaḥ kumāra ṛṣabho bhagavān pitā naḥ
viṣṇuḥ śivāya jagatāṁ kalayāvatirṇas
tenāhṛtā madhu-bhidā śrutayo hayāsye
SYNONYMS
haṁsa-svarūpī—assuming His eternal form of the swan incarnation; avadat—He spoke; acyutaḥ—the infallible Supreme Personality of Godhead; ātma-yogam—self-realization; dattaḥ—Dattātreya; kumāraḥ—the Kumāra brothers, headed by Sanaka; ṛṣabhaḥ—Ṛṣabhadeva; bhagavān—the Lord; pitā—father; naḥ—our; viṣṇuḥ—Lord Viṣṇu; śivāya—for the welfare; jagatām—of all the world; kalayā—by His secondary personal expansions; avatīrṇaḥ—descending to this world; tena—by Him; āhṛtāḥ—were brought back (from the depths of Pātālaloka); madhu-bhidā—by the killer of the demon Madhu; śrutayaḥ—the original texts of the Vedas; haya-āsye—in the horse-headed incarnation.
Translation and purport composed by disciples of Śrīla Prabhupāda
---
TRANSLATION
The infallible Supreme Personality of Godhead, Viṣṇu, has descended into this world by His various partial incarnations such as Lord Haṁsa [the swan], Dattātreya, the four Kumāras and our own father, the mighty Ṛṣabhadeva. By such incarnations, the Lord teaches the science of self-realization for the benefit of the whole universe. In His appearance as Hayagrīva He killed the demon Madhu and thus brought the Vedas back from the hellish planet Pātālaloka.
PURPORT
It is stated in the Skanda Purāṇa that the Lord of the universe, Hari Himself, once appeared in the form of a young brahmacārī named Kumāra and spoke transcendental knowledge to Sanat-kumāra.