SB 12.1.29-31
From Vanisource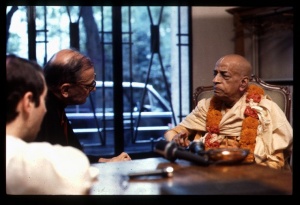 Please note: The synonyms, translation and purport of this verse were composed by disciples of Śrīla Prabhupāda
TEXTS 29-31
ete bhokṣyanti pṛthivīṁ
daśa varṣa-śatāni ca
navādhikāṁ ca navatiṁ
maulā ekādaśa kṣitim
bhokṣyanty abda-śatāny aṅga
trīṇi taiḥ saṁsthite tataḥ
kilakilāyāṁ nṛpatayo
bhūtanando 'tha vaṅgiriḥ
śiśunandiś ca tad-bhrātā
yaśonandiḥ pravīrakaḥ
ity ete vai varṣa-śataṁ
bhaviṣyanty adhikāni ṣaṭ
SYNONYMS
ete—these; bhokṣyanti—will rule; pṛthivīm—the earth; daśa—ten; varṣa-śatāni—centuries; ca—and; nava-adhikām—plus nine; ca—and; navatim—ninety; maulāḥ—the Maulas; ekādaśa—eleven; kṣitim—the world; bhokṣyanti—will rule; abda-śatāni—centuries; aṅga—my dear Parīkṣit; trīṇi—three; taiḥ—they; saṁsthite—when they are all dead; tataḥ—then; kilakilāyām—in the city Kilakilā; nṛ-patayaḥ—kings; bhūtanandaḥ—Bhūtananda; atha—and then; vaṅgiriḥ—Vaṅgiri; śiśunandiḥ—Śiśunandi; ca—and; tat—his; bhrātā—brother; yaśonandiḥ—Yaśonandi; pravīrakaḥ—Pravīraka; iti—thus; ete—these; vai—indeed; varṣa-śatam—one hundred years; bhaviṣyanti—will be; adhikāni—plus; ṣaṭ—six.
Translation and purport composed by disciples of Śrīla Prabhupāda
---
TRANSLATION
These Ābhīras, Gardabhīs and Kaṅkas will enjoy the earth for 1,099 years, and the Maulas will rule for 300 years. When all of them have died off there will appear in the city of Kilakilā a dynasty of kings consisting of Bhūtananda, Vaṅgiri, Śiśunandi, Śiśunandi's brother Yaśonandi, and Pravīraka. These kings of Kilakilā will hold sway for a total of 106 years.