SB 12.5.1
From Vanisource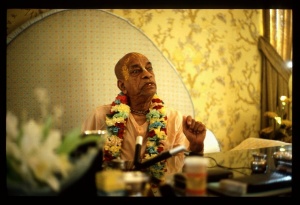 Please note: The synonyms, translation and purport of this verse were composed by disciples of Śrīla Prabhupāda
TEXT 1
śrī-śuka uvāca
atrānuvarṇyate 'bhīkṣṇaṁ
viśvātmā bhagavān hariḥ
yasya prasāda-jo brahmā
rudraḥ krodha-samudbhavaḥ
SYNONYMS
śrī-śukaḥ uvāca—Śrī Śukadeva Gosvāmī said; atra—in this Śrīmad-Bhāgavatam; anuvarṇyate—is elaborately described; abhīkṣṇam—repeatedly; viśva-ātmā—the soul of the entire universe; bhagavān—the Supreme Personality of Godhead; hariḥ—Lord Hari; yasya—of whom; prasāda—from the satisfaction; jaḥ—born; brahmā—Lord Brahmā; rudraḥ—Lord Śiva; krodha—from the anger; samudbhavaḥ—whose birth.
Translation and purport composed by disciples of Śrīla Prabhupāda
---
TRANSLATION
Śukadeva Gosvāmī said: This Śrīmad-Bhāgavatam has elaborately described in various narrations the Supreme Soul of all that be—the Personality of Godhead, Hari—from whose satisfaction Brahmā is born and from whose anger Rudra takes birth.
PURPORT
Śrīla Viśvanātha Cakravartī Ṭhākura has given a very elaborate summary of Śrīmad-Bhāgavatam in his commentary on this verse. The essence of the great ācārya's statement is that unconditional loving surrender to the Supreme Lord, Kṛṣṇa, as described by Śukadeva Gosvāmī, is the highest perfection of life. The exclusive purpose of Śrīmad-Bhāgavatam is to convince the conditioned soul to execute such surrender to the Lord and go back home, back to Godhead.