SB 12.9.31-32
From Vanisource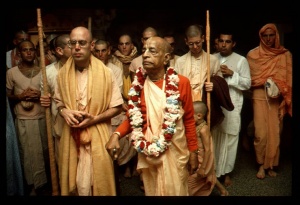 Please note: The synonyms, translation and purport of this verse were composed by disciples of Śrīla Prabhupāda
TEXTS 31-32
tasmin pṛthivyāḥ kakudi prarūḍhaṁ
vaṭaṁ ca tat-parṇa-puṭe śayānam
tokaṁ ca tat-prema-sudhā-smitena
nirīkṣito 'pāṅga-nirīkṣaṇena
atha taṁ bālakaṁ vīkṣya
netrābhyāṁ dhiṣṭhitaṁ hṛdi
abhyayād ati-saṅkliṣṭaḥ
pariṣvaktum adhokṣajam
SYNONYMS
tasmin—in that water; pṛthivyāḥ—of land; kakudi—on the raised place; prarūḍham—growing up; vaṭam—the banyan tree; ca—and; tat—of it; parṇa-puṭe—within the slight depression of the leaf; śayānam—lying; tokam—the child; ca—and; tat—for himself; prema—of love; sudhā—like nectar; smitena—with a smile; nirīkṣitaḥ—being looked upon; apāṅga—of the corner of His eyes; nirīkṣaṇena—by the glance; atha—then; tam—that; bālakam—infant; vīkṣya—looking upon; netrābhyām—by his eyes; dhiṣṭhitam—placed; hṛdi—within his heart; abhyayāt—ran forward; ati-saṅkliṣṭaḥ—greatly agitated; pariṣvaktum—to embrace; adhokṣajam—the transcendental Supreme Lord.
Translation and purport composed by disciples of Śrīla Prabhupāda
---
TRANSLATION
In that vast sea he again saw the banyan tree growing on the tiny island and the infant boy lying within the leaf. The child glanced at him from the corner of His eyes with a smile imbued with the nectar of love, and Mārkaṇḍeya took Him into his heart through his eyes. Greatly agitated, the sage ran to embrace the transcendental Personality of Godhead.