SB 10.49.1-2
From Vanisource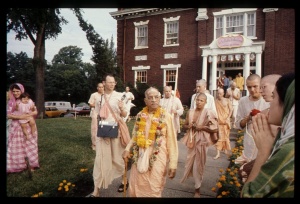 Please note: The synonyms, translation and purport of this verse were composed by disciples of Śrīla Prabhupāda
TEXTS 1-2
śrī-śuka uvāca
sa gatvā hāstinapuraṁ
pauravendra-yaśo-'ṅkitam
dadarśa tatrāmbikeyaṁ
sa-bhīṣmaṁ viduraṁ pṛthām
saha-putraṁ ca bāhlīkaṁ
bhāradvājaṁ sa-gautamam
karnaṁ suyodhanaṁ drauṇiṁ
pāṇḍavān suhṛdo 'parān
SYNONYMS
śrī-śukaḥ uvāca—Śukadeva Gosvāmī said; saḥ—he (Akrūra); gatvā—going; hāstina-puram—to Hastināpura; paurava-indra—of the rulers of the dynasty of Pūru; yaśaḥ—by the glory; aṅkitam—decorated; dadarśa—he saw; tatra—there; āmbikeyam—the son of Ambikā (Dhṛtarāṣṭra); sa—together with; bhīṣmam—Bhīṣma; viduram—Vidura; pṛthām—Pṛthā (Kuntī, the widow of King Pāṇḍu); saha-putram—with his son (namely, Somadatta); ca—and; bāhlīkam—Mahārāja Bāhlīka; bhāradvājam—Droṇa; sa—and; gautamam—Kṛpa; karṇam—Karṇa; suyodhanam—Duryodhana; drauṇim—the son of Droṇa (Aśvatthāmā); pāṇḍavān—the sons of Pāṇḍu; suhṛdaḥ—friends; aparān—other.
Translation and purport composed by disciples of Śrīla Prabhupāda
---
TRANSLATION
Śukadeva Gosvāmī said: Akrūra went to Hastināpura, the city distinguished by the glory of the Paurava rulers. There he saw Dhṛtarāṣṭra, Bhīṣma, Vidura and Kunti, along with Bāhlika and his son Somadatta. He also saw Droṇācārya, Kṛpācārya, Karṇa, Duryodhana, Aśvatthāmā, the Pāṇḍavas and other close friends.