SB 11.30.28-32
From Vanisource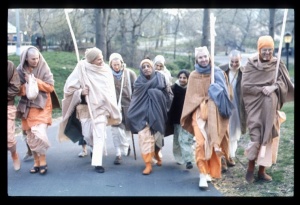 Please note: The synonyms, translation and purport of this verse were composed by disciples of Śrīla Prabhupāda
TEXTS 28-32
bibhrac catur-bhujaṁ rūpaṁ
bhrāyiṣṇu prabhayā svayā
diśo vitimirāḥ kurvan
vidhūma iva pāvakaḥ
śrīvatsāṅkaṁ ghana-śyāmaṁ
tapta-hāṭaka-varcasam
kauśeyāmbara-yugmena
parivītaṁ su-maṅgalam
sundara-smita-vaktrābjaṁ
nīla-kuntala-maṇḍitam
puṇḍarīkābhirāmākṣaṁ
sphuran makara-kuṇḍalam
kaṭi-sūtra-brahma-sūtra-
kirīṭa-kaṭakāṅgadaiḥ
hāra-nūpura-mudrābhiḥ
kaustubhena virājitam
vana-mālā-parītāṅgaṁ
mūrtimadbhir nijāyudhaiḥ
kṛtvorau dakṣiṇe pādam
āsīnaṁ paṅkajāruṇam
SYNONYMS
bibhrat—bearing; catuḥ-bhujam—with four arms; rūpam—His form; bhrājiṣṇu—brilliant; prabhayā—with its effulgence; svayā—own; diśaḥ—all the directions; vitimirāḥ—devoid of darkness; kurvan—making; vidhūmaḥ—without smoke; iva—as; pāvakaḥ—a fire; śrīvatsa-aṅkam—with the mark of Śrīvatsa; ghana-śyāmam—dark blue like the clouds; tapta—molten; hāṭaka—like gold; varcasam—His glowing effulgence; kauśeya—of silk; ambara—of garments; yugmena—a pair; parivītam—wearing; su-maṅgalam—all-auspicious; sundara—beautiful; smita—with smiling; vaktra—His face; abjam—like a lotus; nīla—blue; kuntala—with locks of hair; maṇḍitam—(His head) adorned; puṇḍarīka—lotus; abhirāma—charming; akṣam—eyes; sphurat—trembling; makara—shaped like sharks; kuṇḍalam—His earrings; kati-sūtra—with belt; brahma-sūtra—sacred thread; kirīṭa—helmet; kaṭaka—bracelets; aṅgadaiḥ—and arm ornaments; hāra—with necklaces; nūpura—ankle bells; mudrābhiḥ—and His royal symbols; kaustubhena—with the Kaustubha gem; virājitam—splendid; vana-mālā—by a flower garland; parīta—encircled; aṅgam—His limbs; mūrti-madbhiḥ—personified; nija—His own; āyudhaiḥ—and by the weapons; kṛtvā—placing; urau—on His thigh; dakṣiṇe—right; pādam—His foot; āsīnam—sitting; paṅkaja—like a lotus; aruṇam—reddish.
Translation and purport composed by disciples of Śrīla Prabhupāda
---
TRANSLATION
The Lord was exhibiting His brilliantly effulgent four-armed form, the radiance of which, just like a smokeless fire, dissipated the darkness in all directions. His complexion was the color of a dark blue cloud and His effulgence the color of molten gold, and His all-auspicious form bore the mark of Śrīvatsa. A beautiful smile graced His lotus face, locks of dark blue hair adorned His head, His lotus eyes were very attractive, and His shark-shaped earrings glittered. He wore a pair of silken garments, an ornamental belt, the sacred thread, bracelets and arm ornaments, along with a helmet, the Kaustubha jewel, necklaces, anklets and other royal emblems. Encircling His body were flower garlands and His personal weapons in their embodied forms. As He sat He held His left foot, with its lotus-red sole, upon His right thigh.