SB 5.2.17
From Vanisource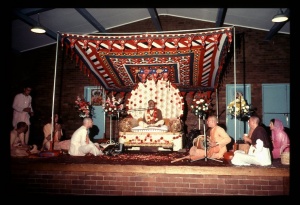 TEXT 17
śrī-śuka uvāca
iti lalanānunayāti-viśārado
grāmya-vaidagdhyayā
paribhāṣayā tāṁ vibudha-vadhūṁ
vibudha-matir adhisabhājayām āsa
SYNONYMS
śrī-śukaḥ uvāca—Śukadeva Gosvāmī said; iti—thus; lalanā—women; anunaya—in winning over; ati-viśāradaḥ—very expert; grāmya-vaidagdhyayā—expert in fulfilling one's material desires; paribhāṣayā—by selected words; tām—her; vibudha-vadhūm—the celestial girl; vibudha-matiḥ—Āgnīdhra, who possessed intelligence like that of the demigods; adhisabhājayām āsa—gained the favor of.
TRANSLATION
Śukadeva Gosvāmī continued: Mahārāja Āgnīdhra, whose intelligence was like that of a demigod, knew the art of flattering women to win them to his side. He therefore pleased that celestial girl with his lusty words and gained her favor.
PURPORT
Since King Āgnīdhra was a devotee, he actually had no attraction for material enjoyment, but because he wanted a wife for progeny and Lord Brahmā had sent Pūrvacitti for this purpose, he expertly pleased her with flattering words. Women are attracted by a man's flattering words. One who is expert in this art of flattery is called vidagdha.